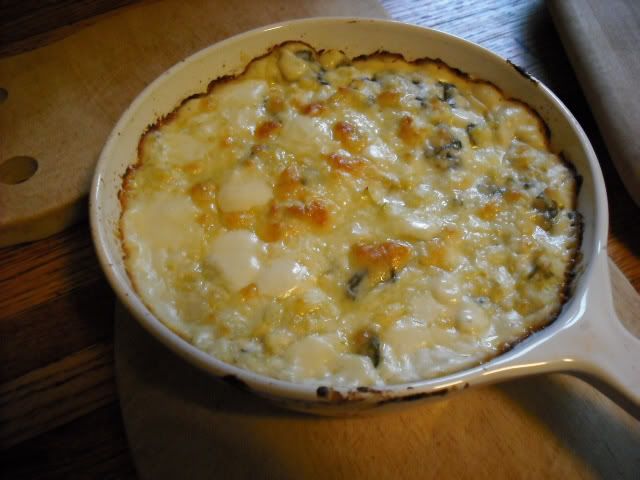 This is my favorite thing to serve alongside the Italian sourdough -- a creamy, garlic-ey dip that tastes a lot more fattening than it is. I read the basis of the recipe in the Herb Companion and made a few changes. For example, the original recipe calls for scallions while I chose to substitute with more garlic -- ripe garlic cloves tend to eminate a richer scent and flavor. Try baking this in a cast iron or stoneware dish so it stays hot and perfect.


Baked Garlic Dip

3 cloves garlic, chopped finely
1/2c cooked spinach
3-5 artichoke hearts, chopped
~2tsp fresh oregano, chopped finely
7 oz fage (Greek low fat yogurt, use plain regular yogurt otherwise)
3/4c light mayonnaise
1c shredded cheddar
1/4c shredded parmesean
salt to taste

Heat the mayonnaise and fage in a saucepan over medium-low heat. Preheat oven to 450. Add garlic, oregano and artichoke hearts; stir occasionally until simmering. Add cheddar and stir until melted, add spinach and salt. Pour into a baking pan or small casserole dish and sprinkle parmesean over the top. Bake for 10 minutes or until bubbling and beginning to brown. Allow several minutes to cool before serving.